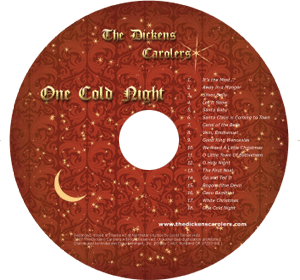 ONE COLD NIGHT
NEW RELEASE: The Dickens Carolers has just released One Cold Night. The CD is now available to purchase.
(Click on the underlined song names to hear a clip from the CD)
Order Online
Use your credit/debit card to order your copy of One Cold Night. You also have the option to login to your own PayPal account. Purchase includes US shipping only. We apologize for any inconvenience, but we will not ship CD's internationally.
To Mail-in your Order
Download a mail-in order form. Print and complete. Mail your check or money order along with the order form to:

Anderson Entertainment, Inc
DBA: The Dickens Carolers
1482 N Ivy Street
Canby, OR 97013

Home | About Dickens | Photos | Public Performances | Rates